"Bloody fabulous!
Your laid back 'keep doing what you're doing and I'll just snap away' approach was the most important thing for us. It was our day and we didn't want to be told 'now just sit on the bed and give me your best Farrah Fawcett wind swept dramatic pose'. We wanted someone to capture the 'moments' the special look that we gave one another the minute we saw each other for the 'first time' that day, the smiles, the quiet moment that we had to compose ourselves before the big 'entry', the teary moments we had upon reflection of those that had passed, the laughs, the fun, the drama – all of it. The way that you make any environment just 'work' – nothing is too hard or too unachievable or too unrealistic…it all just happens, falls into place with any hassle or fuss. You were one of our guests at our wedding – not 'just' our photographer.
You were a dream to have document our day. Your honest and professional opinions are always something we will be truly thankful for! A delightful experience! You are so personable, likeable, honest yet professional – but without being 'too over the top' or in your face, or pushy. You ensure that you adapt your approach to different personality types and value your clients opinions or suggestions."
– Carmel & Joe
"We loved your personality and your work
You have very down to earth approach, as well as great understanding of how to capture the feel we were looking for.
I absolutely loved working with you! You were extremely professional in your work, you made me feel comfortable having my photograph taken (which never happens!!!) and we are very happy with the album you created of our wedding day.
We would definitely recommend you to anyone who asked if we knew a good photographer!"
– Sam & Paul
"Perfect!
Your style of photography perfectly matched what we were after and how the day was planned.
It's not tacky, your approach allows the photos to be natural and capture the moment without it feeling scripted and rehearsed.
On a day where stress levels can be super high, you were everywhere capturing everything, but never once intruding on the moment.
We will be recommending you to anyone we know that is getting married!"
– Ben & Greer
"Easy, worry-free, relaxed
You are approachable, laid back, and delightful. But also professional, organised, experienced and insightful, and equipped to deal with any situation or variation to the plans. You're no fuss, relaxed approach really suited us and your demeanour makes you a pleasure to have around. Exactly what we wanted and needed."
– Amy & Bianca
"You were amazing!
Because of your contagious, happy and excited energy and because you were the only photographer who genuinely took an interest in us, our relationship and the things most important to us.
You were so thorough, organised, professional but totally relaxed and helped put us and our guests at ease. You felt like part of the family!
You helped captured the happiest day of our lives more beautifully than we could have ever imagined.
Anyone who wants to record their happiest memories in the most unique, relaxed and beautiful way possible! We highly recommend you to anyone who is planning a wedding, loved up engagement shoot or family & children's photography!"
– Renee & Steve
"Friendly, fun, organised.
When we met you we felt like we got along so well and that you knew what mattered to us in terms of photographing our big day.
You made it personal and fun all the way through. You were organised and gave us good tips that made a big difference to the day which we otherwise would not have known or thought about. Like not to worry about running the day and be present in it, enjoy it and everyone else will have a great time too. I think the rapport we had was crucial to getting the candid shots we did."
– Sarah & Joe
"Working with Loz was great and so easy!
I love your relaxed approach, fly on the wall style, and how you manage to capture natural, beautiful moments – no contrived shots here! You have such a great eye for the most interesting or unexpected angle that pays off.
Super warm and friendly, and on the big day you don't even notice she's there. I go to other weddings and I see how much photographers get in the way, hold up the show, detract from the proceedings or set up these awkward/contrived shots, and think "You guys lost out by not having Loz!"
I prattle on to everyone around me who gets engaged about this amazing photographer I know! :)"
– Jac & Rich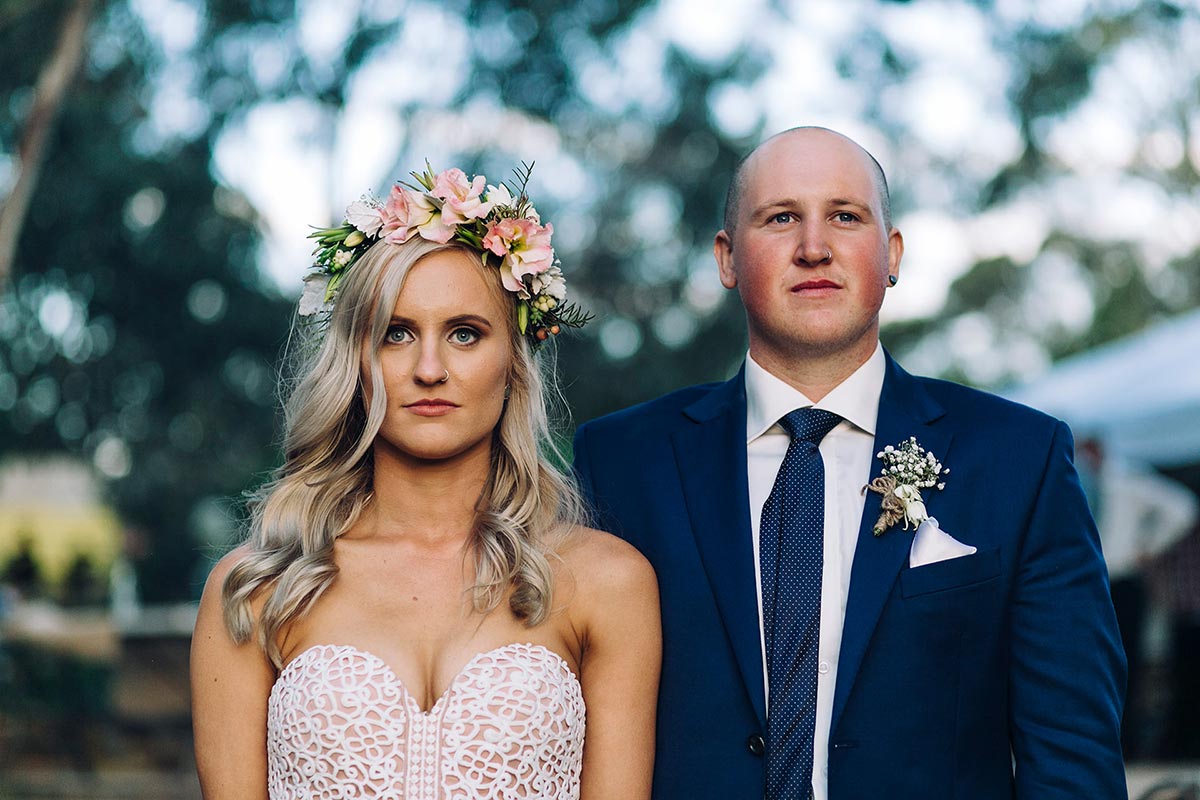 "One word: Perfect.
The quality and personalisation of the images was what initially sparked our interest in LJM photography but what we did not expect was a genuine connection and lifelong friendship with our photographer. You cannot put a price on this experience. Photos are all you are left with to remember the best day of your life and we wanted ours to be unique and natural.
Nothing was clinical, staged or pushed on us. We ran the show with little guidance. Having a bond with your photography is vital on the day to capture raw moments.
LJM will be my photographer for every major life event. We cannot wait for family pictures pending the arrival of first baby! Lauren makes the whole experience effortless. The moments shared while taking these images were by far our favourite part of the day."
– Mon & Mitch
"The whole experience was amazing!
Loz was open and professional, helping with suggestions but also encouraging us to make the day ours. Loz was with us through the planning stages and the day itself. She was so lovely, she'll be welcomed back when we renew our vows!
I would recommend Loz to everybody, but especially those in the LGBTI community."
– Mel & Bex
"Friendly, easy-going but professional!
Loz was recommended to us, we were impressed with her work. Then we met her and found out she was a North Melbourne supporter! 😉 Honestly, we clicked from the start, she understood us and what we wanted.
We were so happy with the end results. Fantastic experience! It was like spending the day with your (talented photographer) friend!
One of our favourite moments of the day was when we went on our shoot with Loz. Main reason was that her passion and excitement was contagious and we couldn't have felt more comfortable! If you're looking for someone who's going to capture those moments you don't even know you want and make unique memories of your day, then you have found your photographer. Thank you Loz for making our day even more special! Xx"
– Shaz & Whit
"Passion, integrity, truth, beauty.
There are simply not enough words to truly encapsulate the skill of Lauren's work. From the moment we met Lauren we felt completely comfortable and knew we had made the right choice. From her stunning folio to her warm, cheeky personality – there wasn't a thing we didn't love about working with Lauren! Every meeting after our first felt like an evening with an old friend who was just easy to be around, and even when we invited her into our home for our 'Loved up' shoot, we soon completely forgot she was there. When it came to our wedding, the mood was no different. We've looked back on images of the day and been amazed at the candid moments she caught without us even noticing! It was a sincere pleasure and privilege to have Lauren shoot the most significant milestone of our lives to date. Her unobtrusive nature, keen attention to detail and uncanny talent for capturing a thousand emotions in a single image is priceless. We would recommend LJM photography to anyone who not only wants a unique pictorial representation of their special day, but also the ease and comfort of working with someone who genuinely cares about her clients and has an indescribable talent for capturing the essence of your story. Thank you Lauren!"
– Dani & Chloe
"You've clearly done it again – a master of your art!
We can't thank you enough for having captured our day, and we can't wait to have the photos in our excited little hands! There are some absolute gems that we can't wait to get framed. I'm sure you've got our display pictures covered for at least the next decade as well ;).
We had seen you work in the flesh, and seen the resulting photos and were blown away. You were our first and only choice!
Very relaxed and calm, yet efficient. You oozed experience. You blended in perfectly, and were just the type of friendly face that we wanted at our wedding to begin with.
Everything was very efficient and professional, yet remained extremely friendly. We trusted you wholly and weren't disappointed."
– Nath & Helene
"I am so glad we chose you to capture the day
Nessa and I really love what you have done and the direction you have taken artistically. We knew you would bring out the goods.
I hope you know how much Nessa and I appreciate your attention to detail and professional delivery. All our guests were impressed with your personalities and social graces…. we had quite a few comments. Thanks for being amazing x"
– Bridie & Ness
"Relaxed and lots of fun but also very professional
We particularly loved that she has an ability to create a beautiful photograph from seemingly ordinary moments. Lauren captures wonderful memories without you even realising they've taken place.
Such great fun! We went on some adventures on location to ensure we came away with some beautiful, memorable photographs of our wedding day, to which we are very grateful for! The wonderful moments captured between us and our family and friends are incredibly valuable to us.
I would, without hesitation, recommended LJM Photography to anyone in need of an incredibly gifted and professional individual with a genuine understanding of her craft."
– Stef & Caz
"Loved your style
We met up and knew it'd be a great fit for our special day. We liked how naturally everything flowed, we really wanted to capture personalities and experiences of the day and you had the ability to be present but not make people feel like they were being photographed.
Both times we have worked with you have been an absolute ball. We had the best time and felt so natural having you in our space with us capturing some of our most special moments."
– Steph & Claire
"You capture emotion and spirit in a way that very few photographers can.
We flew you to New York to photograph our wedding and it was the best decision we ever made. Working with you was like hanging with an old friend, comfortable, fun and we walked away feeling warm and fuzzy (with wonderful photos!!!)
I recommend you to everyone because that's the magic of who you are – you click with all types of people! You have such a gorgeous spirit that you instantly feel like you've been friends forever."
– Eszter & Michael